BELENOS SKIN BOTANIQUE
Regular price
Sale price
£14.00 GBP
Unit price
per
Sale
Sold out
Claimed to be a gentle alternative to retinol, bakuchiol, boasts the same anti-ageing, acne-fighting benefits… and there's scientific proof to back it up.
.
What is it?
Bakuchiol Oil (cold pressed & unrefined)

Bakuchiol oil is a Seed Oil and traditionally used in Ayurveda for treating dermatological conditions
A plant derived, natural alternative to vitamin A it has been found to have both anti-inflammatory and antioxidant properties.
Cold pressed from the seeds of the Psoralia Corylifolia plant this rich, brown oil with it's nutty aroma has a long history in Ayurvedic medicine but is now becoming increasingly more popular in skin care preparations.
Like retinol, bakuchiol helps prevent fine lines and wrinkles while also improving skin firmness and elasticity, Unlike retinol, bakuchiol is natural and vegan.
Is bakuchiol as effective as retinol?
Not only is it less irritating than retinol, bakuchiol has also been found to be as effective as retinol. A gentle solution for those with sensitive skin 
Helps soothe skin: By promoting cell turnover and healthy cell regeneration, bakuchiol may help soothe and heal your skin from the inside out.
Doesn't cause dryness or irritation: While retinol and other skincare ingredients may dry out skin or cause irritation, bakuchiol is more gentle and isn't known to cause any irritation
What makes it even better than retinol?  Bakuchiol doesn't negatively interact with other skincare ingredients, unlike some products containing retinoid.
When to you apply bakuchiol? before your regular moisturizers, oils or serums. Because  it's less harsh than retinol, you can also use it in the morning and at night for maximum effectiveness. Even though it likely won't make your skin more sensitive to the sun, like retinoid always remember to apply sunscreen.

.Since  2019 this wonderful wonderful natural oil has been popping up everywhere and having used it for 8 weeks I can see and feel why.
I'm not only impressed with the skin benefits I have found, especially around the neck area but impressed by everything that has been written about this oil that support the claim this oil is as effective as retinol.
.
One recent open-access independent clinical study, published in the British Journal of Dermatology is pretty impressive.
.
A randomised double-blind trial that lasted 12 weeks reported some serious results (link below)
Bakuchiol is just as effective as retinol in stimulating collagen production," says Dr. Dendy Engelman, a board-certified dermatologic surgeon and New York-based dermatologist. Bakuchiol was formulated into a finished skin-care product and was tested in a clinical case study by twice-a-day facial application, according to Dr. Engelman. "The results showed that, after 12 weeks of treatment, significant improvement in lines and wrinkles, pigmentation, elasticity, firmness and overall reduction in photo-damage was observed."
Non-GMO
Free of additives and derivatives
Preservative free
Suitable for vegetarians and vegans
Palm-free
NO solvents or preservatives have been used in the production of Bakuchi (Bakuchiol) Oil, Cold Pressed.
INCI: Bakuchiol / Psoralea Corylifolia Seed Oil
Fatty Acid Profile %
C16:0 PALMITIC 6.0 – 14.5
C18:0 STEARIC 1.0 – 6.5
C18:1 OLEIC 19.0 – 42.0
C18:2 LINOLEIC 32.0 – 68.0*
C18:3 LINOLENIC < 11.5
Source https://www.ncbi.nlm.nih.gov/
British Journal of Dermatology.
50ml supplied
Share
View full details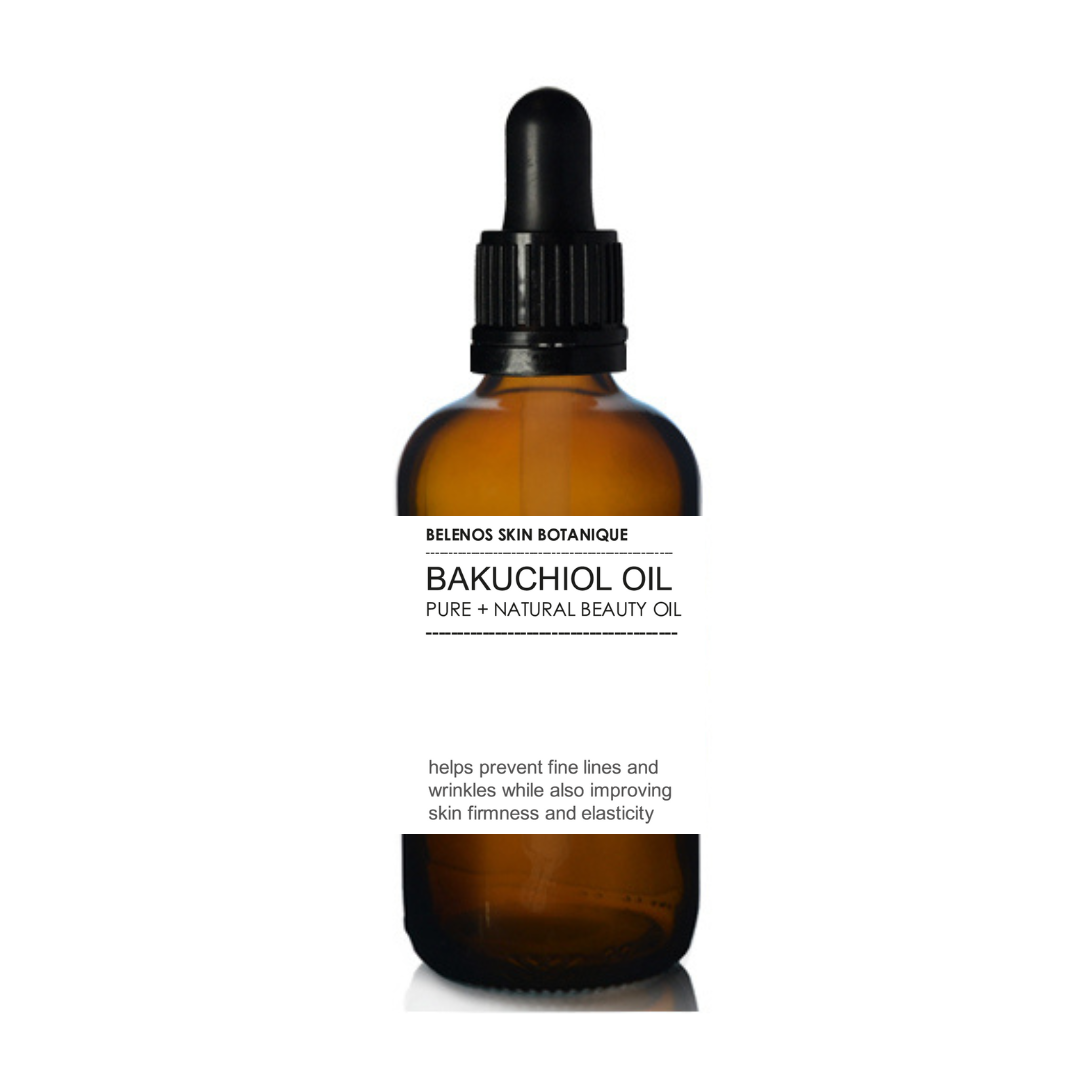 Answer your customers' common questions
Why is oil a little ligter/darker than my last oil

When you first try our all natural concentrated cream balms and oils, you may find them a little richer than standard commercial water based products. This is because our creams and oils are natural concentrates. They do not contain water. This is what enables us to avoid using harsh preservatives and emulsifiers. Every batch is handmade using traditionally artisan method blended only with pure and natural ingredients from nature. Using this method and natural ingredients can sometimes result in a variation in colour, texture and scent of the finished cream. This will not affect the quality of your product and the great benefits are always the same!
My product is melting, what shall I do?

In order to improve the stability and preserve function we recommend that you store the products out of direct sligt and below 25C. During warm weather it is normal for our creams and balms to become a little softer, if you belive that the prodct is goig to melt into a hot mess, please pop into the fridge for an hour or so in order for the product to solidify, this will not affect the quality of your butter/balm.
List another frequently asked question